MULTI-UNIT RESIDENTIAL
Our innovative and authentic designs transform homes in uniquely beautiful ways.


FEATURED RESIDENTIAL
1030 Kings
With its dynamic facade, crafted from perforated metal and wood cladding, 1030 Kings stands out for its edgy architecture. Yet inside the new West Hollywood complex, comfort reigns: The 25 exceptional residences exemplify luxury living with a SoCal spirit. Amenities spread across multiple levels of the property, from a light-filled gym to a roof deck with expansive views of the Hollywood Hills. Waterworks Flyte fittings -- light and minimalist -- round out the chic and relaxed modern interiors: the vision of Los Angeles-based architecture firm LOHA and design firm MLH Design Group.
PROJECT DETAILS+
Los Angeles, CA

Multi-Unit Residential

National Construction

MLH Design Group

LOHA

25

Flyte
FEATURED PRODUCTS+
FEATURED RESIDENTIAL
The Archer Residences
Boston's Beacon Hill is renowned for its brick sidewalks and Federal-style row houses. Now, the Archer Residences makes it possible to enjoy all of the historic charms of life there with the comforts and conveniences of a luxury condominium -- from 24-hour concierge service to a state-of-the-art fitness center. Impeccably crafted Waterworks elements (our streamlined Universal and .25 fittings and tailored Arundel pendant lights) complement the new property's stunning contemporary interiors -- a luxurious design conceived by The Architectural Team and LDa Architecture & Interiors in partnership with Center Court Mass.
PROJECT DETAILS+
Boston, MA

Multi-Unit Residential

CCM

LDa Architecture & Interiors

The Architectural Team

67

.25, Universal, and Arundel
FEATURED RESIDENCE
The Liddel
A collection of exceptional contemporary residences set along L.A.'s exclusive Wilshire Boulevard, The Liddel offers a wealth of amenities to suit luxury living. In keeping with the highly curated modern interiors, bathrooms feature two Waterworks fittings families: sleekly understated .25 and Flyte, high-performance designs that double as minimalist works of art.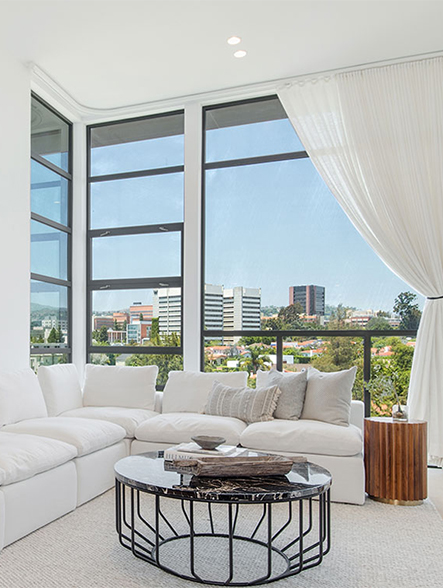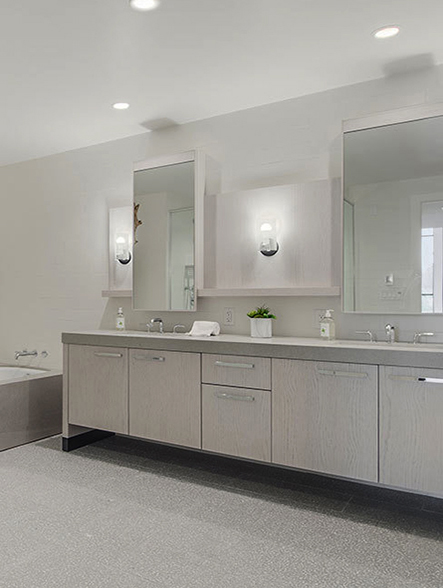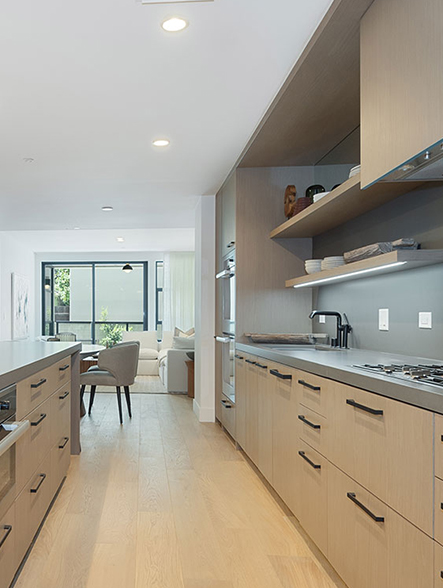 PROJECT DETAILS+
Los Angeles, CA

Residences

Palisades

Jamie Bush

56

Flyte and .25
FEATURED PRODUCTS+
VIEW ALL RESIDENTIAL PROJECTS-
Silverleaf Gold Vilas

Scottsdale, AZ

The Liddel

Los Angeles, CA

The Ritz Carlton at LA Live

Los Angeles, CA

Four Seasons Calistoga

Napa, CA

Once Coast

Pacific Palisades, CA

Residences at Palisades Village

Pacific Palisades, CA

The Rockwell

Pacific Palisades, CA

Villas at Grand Del Mar

San Diego, CA

288 Pacific

San Francisco, CA

706 Mission Street

San Francisco, CA

1598 Bay Street

San Francisco, CA

2465 Van Ness Street

San Francisco, CA

The Harrison

San Francisco, CA

The Pacific

San Francisco, CA

1030 Kings

West Hollywood, CA

Penn Eleven

Washington, DC

Mandarin Oriental Residences

Boca Raton, FL

3621 South Ocean

Highland Beach, FL

Kaiya Beach Resort

Inlet Beach, FL

1 Hotel & Homes

Miami, FL

Elysee Miami

Miami, FL

The Surf Club Four Seasons

Miami Beach, FL

The Crystal

Palm Beach, FL

Kohanalki Private Club

Kailua-Kona, HI

Gozzer Ranch

Harrison, ID

Norweta Row

Chicago, IL

The Hampdens

Chicago, IL

Archer Residences

Boston, MA

Pier Village

Long Branch, NJ

Silo Ridge

Amenia, NY

9 Dekalb Avenue

Brooklyn, NY

24 Fourth Ave

Brooklyn, NY

51 Jay Street

Brooklyn, NY

70 Schermerhorn Street

Brooklyn, NY

75 Greene Ave

Brooklyn, NY

85 Jay Street

Brooklyn, NY

280 St. Marks

Brooklyn, NY

308 North 7th Street

Brooklyn, NY

613 Baltic Avenue

Brooklyn, NY

Brooklyn Point

Brooklyn, NY

One Prospect Park West

Brooklyn, NY

Pierhouse

Brooklyn, NY

The Brooklyn Grove

Brooklyn, NY

The Brooklyn Home

Brooklyn, NY

7 West 57th Street

New York, NY

12 East 13th Street

New York, NY

21 East 12th Street

New York, NY

50 Clinton Street

New York, NY

90 Morton Street

New York, NY

93 Worth Street

New York, NY

100 Vandam Street

New York, NY

111 Leroy Street

New York, NY

141 Fifth Avenue

New York, NY

310 West 113th Street

New York, NY

465 Washington Street

New York, NY

515 West 18th Street

New York, NY

Carlton House

New York, NY

Henry Hall

New York, NY

Madison Square Park Tower

New York, NY

The Fitzroy

New York, NY

The Greenwich Lane

New York, NY

Watchcase

Sag Harbor, NY

Dune Deck Beach Club

Westhampton Beach, NY

Brightleaf & Cooper

Alexandria, VA

Baker's Bay Golf & Ocean Club

Bahamas

Royal Westmoreland

St. James, Barbados

One St. Thomas

Toronto, Canada

Kimpton Seafire Residences

Grand Cayman, Cayman Islands

Four Seasons Residences at Costa Palmas

Cabo San Lucas, Mexico

The Shore Club

Turks & Caicos

13-19 Leinster Square

London, UK

Duke's Lodge

London, UK

Kingwood

London, UK

Knighton Place

London, UK

Long & Waterson

London, UK

Twenty Grosvenor Square

London, UK

Iconsiam Mandarin Oriental Residences

Bangkok, Thailand
REQUEST INFOMATION
Multi-Unit Residential