MULTI-UNIT RESIDENTIAL
Our innovative and authentic designs transform homes in uniquely beautiful ways.


FEATURED RESIDENCE
The Liddel
A collection of exceptional contemporary residences set along L.A.'s exclusive Wilshire Boulevard, The Liddel offers a wealth of amenities to suit luxury living. In keeping with the highly curated modern interiors, bathrooms feature two Waterworks fittings families: sleekly understated .25 and Flyte, high-performance designs that double as minimalist works of art.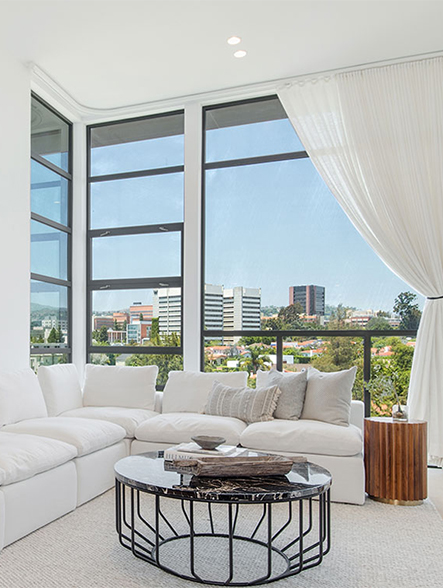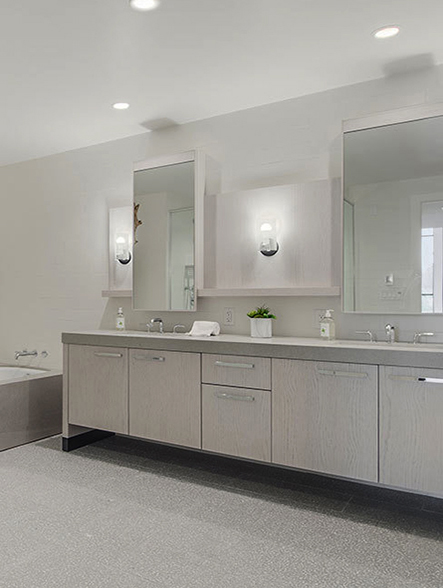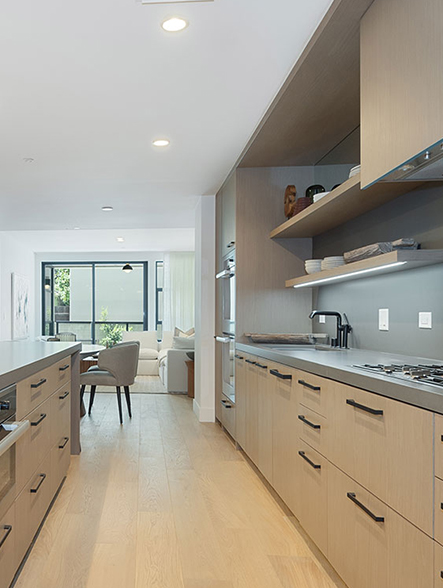 PROJECT DETAILS+
Los Angeles, CA

Residences

Palisades

Jamie Bush

56

Flyte and .25
FEATURED PRODUCTS+
FEATURED HOSPITALITY
The Fitzroy
Located in Manhattan's Chelsea neighborhood, the Fitzroy brings the signature touches of celebrated design team Roman and Williams to the High Line. Inspired by pre–war buildings, the ten–story property pays homage to the city's architectural history with 14 well–detailed, elegant residences. Waterworks R.W Atlas fittings and accessories in custom copper and carbon finishes round out each home's exquisitely layered, artisanal feel.
PROJECT DETAILS+
New York, NY

Residences

JDS Development Group Largo

Roman and Williams

14

R.W Atlas and Clothilde
FEATURED RESIDENTIAL
Penn Eleven
A curated collection of 34 historically–inspired homes near Capitol Hill, Penn Eleven epitomizes charm and convenience at every turn. Designed by award-winning Akseizer Design Group, the residences have bright open layouts and a graceful rooftop terrace, offering an inviting escape from the city bustle of Washington, D.C. The property's understated yet striking bathrooms feature Waterworks Ludlow fittings–a touch of streamlined, utilitarian elegance.
PROJECT DETAILS+
Washington, D.C

Residences

Perseus Realty

Akseizer Design Group

Hickok Cole

34

.25 and Ludlow
VIEW ALL RESIDENTIAL PROJECTS-
Silverleaf Gold Vilas

Scottsdale, AZ

The Madison Club

La Quinta, CA

940 East Second

Los Angeles, CA

Pendry Residences

Los Angeles, CA

The Ritz Carlton at LA Live

Los Angeles, CA

The Liddel

Los Angeles, CA

Four Seasons Calistoga

Napa, CA

Once Coast

Pacific Palisades, CA

Residences at Palisades Village

Pacific Palisades, CA

The Rockwell

Pacific Palisades, CA

288 Pacific

San Francisco, CA

706 Mission Street

San Francisco, CA

1598 Bay Street

San Francisco, CA

The Harrison

San Francisco, CA

The Pacific

San Francisco, CA

Cathedral Crest

Washington, DC

Edmunds School

Washington, DC

Euclid Heights

Washington, DC

Penn Eleven

Washington, DC

3621 South Ocean

Highland Beach, FL

Kaiya Beach Resort

Inlet Beach, FL

Continuum

Miami Beach, FL

1 Hotel & Homes

Miami, FL

The Surf Club Four Seasons

Miami Beach, FL

Palazzo Villas

Palm Beach, FL

Seventh Midtown

Atlanta, GA

Kohanalki Private Club

Kailua-Kona, HI

Gozzer Ranch

Harrison, ID

508 West Diversey

Chicago, IL

Norweta Row

Chicago, IL

The Hampdens

Chicago, IL

Symphony Park

Behtesa, MD

Yellowstone Club

Big Sky, MT

Pier Village

Long Branch, NJ

9 Dekalb Avenue

Brooklyn, NY

24 Fourth Ave

Brooklyn, NY

51 Jay Street

Brooklyn, NY

70 Schermerhorn Street

Brooklyn, NY

75 Greene Ave

Brooklyn, NY

85 Jay Street

Brooklyn, NY

280 St. Marks

Brooklyn, NY

308 North 7th Street

Brooklyn, NY

Brooklyn Point

Brooklyn, NY

Pierhouse

Brooklyn, NY

The Brooklyn Grove

Brooklyn, NY

5 Franklin Place

New York, NY

7 West 57th Street

New York, NY

9 Orchard Street

New York, NY

12 East 13th Street

New York, NY

21 East 12th Street

New York, NY

45 East 22nd Street

New York, NY

50 Clinton Street

New York, NY

90 Morton Street

New York, NY

93 Worth Street

New York, NY

100 Vandam Street

New York, NY

111 Leroy Street

New York, NY

141 Fifth Avenue

New York, NY

301 East 50th Street

New York, NY

310 West 113th Street

New York, NY

601 Warren Street

New York, NY

2255 Broadway

New York, NY

Carlton House

New York, NY

Phillip House

New York, NY

Rick & Warren

New York, NY

Riverhouse

New York, NY

Stella Tower

New York, NY

The Bluffs

New York, NY

The Fitzroy

New York, NY

The Greenwich Lane

New York, NY

The Milan

New York, NY

Walker Tower

New York, NY

West 71st Street

New York, NY

Watchcase

Sag Harbor, NY

Dune Deck Beach Club

Westhampton Beach, NY

The Austonian

Austin, TX

Brightleaf & Cooper

Alexandria, VA

Baker's Bay Golf & Ocean Club

Bahamas

Royal Westmoreland

St. James, Barbados

One St. Thomas

Toronto, Canada

Kimpton Seafire Residences

Grand Cayman, The Cayman Islands

Four Seasons Residences at Costa Palmas

Cabo San Lucas, Mexico

The Shore Club

Turks & Caicos

13-19 Leinster Square

London, UK

20 Grosvenor Square

London, UK

Kingwood

London, UK

Knighton Place

London, UK

Long & Waterson

London, UK
REQUEST INFOMATION
Multi-Unit Residential